The Movement Intensive
Move and dance with intention.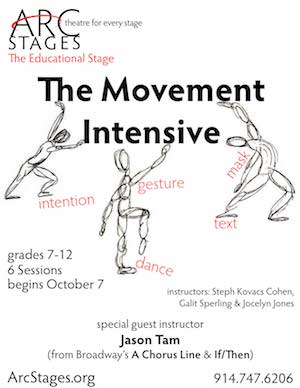 The Movement Intensive Class is designed to challenge and train actors to use their bodies as the incredible "actor tools" they are. Each class targets a specific technique the students can use to better express themselves on stage physically. Through creative movement exercises, physical character work, dance/choreography, and more the actors will gain confidence in their physical presence on stage and off!
Tween/Teen Section: (7th – 12th Grade) (1 hour, 6 weeks)
Saturdays 11:00AM – 12:00 PM $375
Class 1: October 7 – Movement Introduction, taught by Galit Sperling
Class 2: October 14 – Mask work, taught by Stephanie Kovacs Cohen
Class 3: October 21 – Theatre Dance 1, taught by Jocelyn Jones
Class 4: November 4 – Movement & Gesture, taught by Stephanie Kovacs Cohen
Class 5: November 11 – Theatre Dance 2, taught by Jocelyn Jones
Class 6: November 18 – Physical Script Work, taught by Jason Tam (from Broadway's A Chorus Line, and If/Then)
The Educational Stage endeavors to create a safe environment where students feel free to express themselves through the artistic process.
We believe kids can create art…and should.
At Arc, they do.